Best Industrial Website Designs
Web designs for manufacturing companies need to be well thought out with specific goals in mind. Effective industrial website designs should not only clearly represent a company's branding, products, and services, but also provide an easy, hassle-free experience for the user. In other words, a website needs to be easy to navigate, fast, straightforward, and mobile responsive.
In this blog post, our team at Momentum highlights some of the best industrial website designs and why they're so effective. If you're interested in learning more about website design, feel free to schedule a consultation with one of our experts.
WENZEL America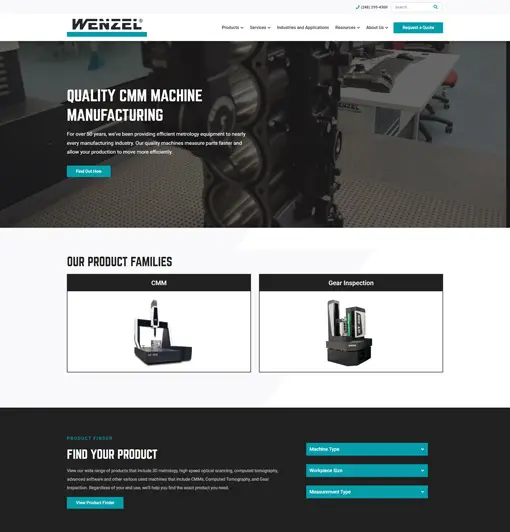 WENZEL America is a manufacturer of coordinate measuring machines. When you visit their website, you'll see right away what they do and the products that they offer. Their home page design in particular is very effective because it tells the audience right away what they do. The design is simple, uncluttered, and provides easy navigation options for the end users. Like WENZEL, your home page should be clean and visually draw website users to what you do.
But, a clean website design is just one element of a website. You also have to consider where your customers are in the buyer journey, and cater the content on your website accordingly.
King Steel Fasteners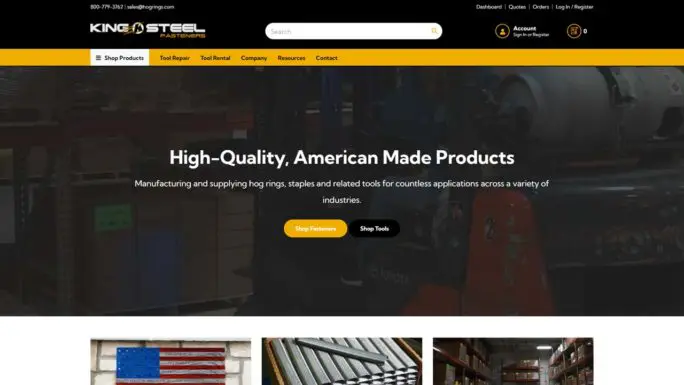 King Steel Fasteners is one example of how to design a website with the user in mind. The home page not only highlights what they do and the products that they offer, but also provides plenty of CTA (call-to-action) buttons for the user to click on, including "Shop Fasteners," "Shop Tools," and "Get More Information."
Having multiple CTAs on your website can be incredibly helpful, as they tell the user exactly what they need to do. If you don't have these call to actions, the user may just leave your website.
Signal.X Technologies LLC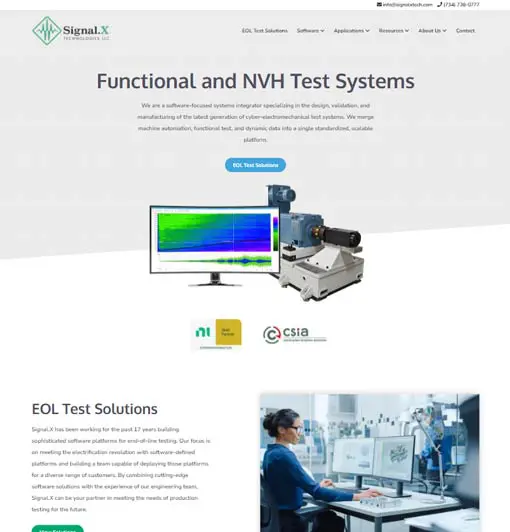 Signal.X Technologies is another example of an industrial website design that keeps the user in mind. This company sells software and EOL test solutions to customers, but they recognized early on that their target audience wasn't necessarily ready to make an immediate purchase—they wanted more information.
This website design is so effective because it provides the user with plenty of opportunities to learn more about their solutions, including having call-to-action buttons with statements like "EOL Test Solutions" and "View Solutions."
Barron Industries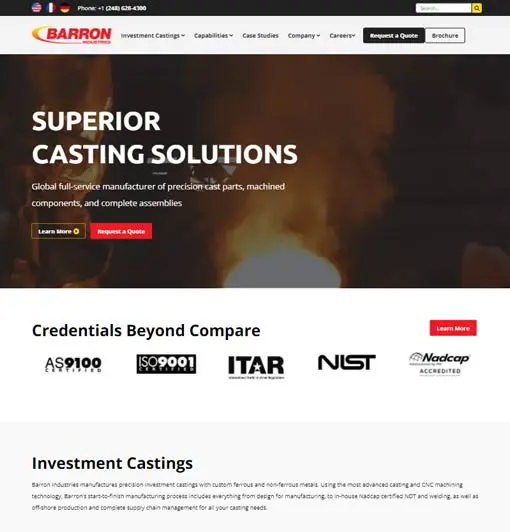 Beyond incorporating call to actions, another way to create an effective industrial website is to include testimonials, case studies, and qualifications, which is exactly what Barron Industries did. Like the other industrial website designs we've mentioned, their homepage states what they do and provides clear call-to-action buttons. However, they also include a credentials section on their page which states all of their many certifications and memberships.
Clearly stating your company's qualifications helps establish trust between you and your potential buyers. Additionally, having case studies and testimonials can also showcase the impact that you've had on other individuals and businesses.
Mazlite Inc.
Lastly, if you're an up-and-coming business, you'll want to keep this website in mind. Mazlite Inc. is a new startup that needed to establish themselves as a serious competitor in the market.
In order to achieve that, their website needed to increase brand awareness and emphasize their products. For a new business, their website design is incredibly effective particularly because of the above-the-fold content. This content clearly states what they offer and includes bold, noticeable buttons that invite website visitors to learn more about them and to learn more about their product.
Additionally, the design itself is simple and offers easy, straightforward navigation.
Create Your Industrial Website Design Today
So many leads come from website visits. That's why you need an effective website. But, creating an industrial web design is not easy—that's why you need an agency like Momentum on your side. We've been developing web designs for manufacturing companies for over a decade. Our efforts have helped countless manufacturers grow their online presence.
If you have questions about the website design process, or are interested in learning more about how we can help you, please contact us today to schedule a consultation.