10 Fastest-Growing U.S. Aircraft Parts Manufacturers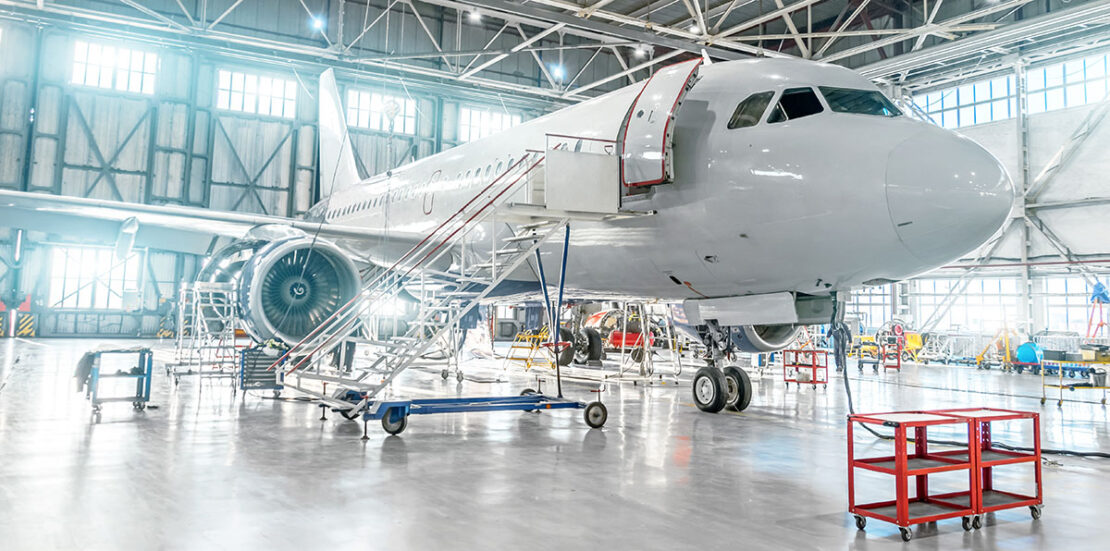 It is an exciting time to be one of the perennial global aircraft parts manufacturers. In 2018, the industry as a whole was valued at $877 billion. The value of the industry is expected to rise by 3.9% over the next seven years. The rise in value is due to the rapid aging of aircraft made over the last few decades and the need to replace them with more fuel-efficient models.
While that value is worldwide, the United States holds a particularly large stake in aircraft part manufacturers. It will expand rapidly in the years to come, and in particular, there are a few companies to keep a close eye on as they will likely expand greatly over the next decade.
Parker Hannifin Corp., Fluid Systems Division
Located in Irvine, California, Parker Hannifin Corp. currently employs roughly 500 employees. The company offers comprehensive solutions and components for water, pneumatic, electronic and fuel applications. The company is particularly known for its fast turnaround times, and that is due to its incorporation of 3D tools to get products through testing and development much faster.
GKN Aerospace Transparency Systems, Inc.
GKN Aerospace Transparency Systems, Inc. is located not too far away from Parker Hannifin Corp. in Garden Grove, California. The company works in the aviation industry as a manufacturer of specialty aerospace products. The company produces cabin windows and cockpits for military, regional and commercial aircraft.
UTC Aerospace Systems – Customer Service Division
UTC Aerospace Systems – Customer Service Division has a hand in numerous industries. The company works on behalf of commercial aviation as well as the United States military. UTC also has a hand in marine, space and rotorcraft vessels. The company currently operates out of Phoenix, Arizona, and it employs 700 individuals. In many cases, the organization has to collaborate with other industry leaders, including Collins Aerospace, to create new piloting systems for aircraft.
RMS Company
RMS Company, based out of Coon Rapids, Minnesota, presently employs around 950 people. The company stands out in the fact that it offers support and training services to numerous organizations around the country, including the United States federal government.
The Atlas Group
The Atlas Group provides complex aerospace products to companies all over the globe. The company has clients in both the defense and business sectors. In particular, the company focuses on a unique array of complex aircraft assemblies. The Atlas Group handles all of the processes in-office from sheet metal fabrication to skin manufacturing. Currently, the company is based out of Wichita, Kansas and has around 570 employees.
Triumph Aerostructures, LLC., Vought Aircraft Division
For years now, Triumph Aerostructures, LLC., Vought Aircraft Division has been a worldwide leader in developing and overhauling aerospace structures. While the individual Vought Aircraft Division has around 1,250 employees, the company as a whole employs over 10,000 individuals.
The company has 42 locations around the world, but it is based out of Red Oak, Texas. The Triumph Group is dedicated to providing high-quality service to every customer, particularly those with specialized needs.
Collins Aerospace
In Burnsville, Minnesota, Collins Aerospace has hired 1,500 employees to work on advancing new aircraft technology. In recent years, the company has focused heavily on leading precision technology and pilot enhancement for these vessels. Collins Aerospace sets itself apart from other companies by having a strong focus on sustainability.
When a company works with Collins Aerospace, they know they are getting quality because the company maintains a 24/7 customer response center to handle any issues as they arise.
Cobham Mission Systems Davenport LSS Inc.
950 employees work for Cobham Mission Systems Davenport LSS Inc. The company has its main plant in Davenport, Iowa, and it provides an array of vital services to its clients. Some of the systems the company specializes in include life support, air-to-air refuel, carriage and control systems.
These services are devoted to both military and commercial aircraft. Cobham always has one eye toward sustainability because the company recognizes that maintaining those kinds of long-term goals are best for consumers and for stakeholders.
Pratt & Whitney
Pratt & Whitney is one of the leading manufacturers of aircraft parts in the country. It employs over 2,000 people at its main base of operations in Midland, Georgia. The company has a strong commitment toward advancing the possibilities of powered flight. The organization's primary mission is to challenge the way both military and commercial aircraft function so that people can more reliably get to their destinations. With Pratt & Whitney leading the way, it is an exciting time for aviation.
Boeing
Boeing does a lot more than merely fly planes around. The company is also on the leading edge of manufacturing avionics, engines, controls, communication systems, modules and so much more. Boeing has been around since 1916. Back then, the company was focused on the first canvas-and-wood airplanes, and it has come a long way in the century since.
Founder Bill Boeing had a single vision to "build something better." The company continues that ethos to this day.
Numerous innovations have come out of the aerospace field in recent years. Companies are striving to create more sustainable aircraft so that everyone from passengers to military personnel can get to where they are going while leaving a smaller impact on the planet.
With advancements on the way thanks to additive manufacturing, all of these companies will likely see expansions in the next few years. The future of aviation and aerospace is incredibly exciting with these businesses at the helm.