Manufacturing Web Design
How important is web design for manufacturing companies? When used correctly, web design can actually help you increase leads. Think of your website as a digital sales funnel; if your website's design is lackluster and not optimized for online users, it won't matter how much traffic you generate—people aren't going to stay on your website.
That's why you need Momentum. If you're not sure how to create an effective manufacturing web design, we can help you. Since 2010, we've provided a wide array of digital marketing solutions to manufacturers like you. From web design to search engine optimization (SEO), we do it all.
Keep reading to learn more about our digital marketing approach, or contact us today to request a consultation.
Digital Marketing for Manufacturing Industries
The difference between business-to-business (B2B) and business-to-consumer (B2C) markets is night and day. This is especially true for manufacturers. These differences encompass everything from the search terms that potential customers use to find your website online, how prospects become customers, and how customers make purchasing decisions.
Momentum specializes in B2B marketing solutions. We know how challenging and competitive digital marketing can be, especially for manufacturers, especially those in niche markets. Our digital marketing solutions include web design and development, search engine optimization strategies, pay-per-click campaigns, and video and photography.
Our digital marketing specialists can help you understand the keywords and phrases that your target audience is using when they perform online searches, as well as the different types of information that they're looking for.
We've helped over 100 manufacturers and B2B enterprises connect with their audience, grow their online presence, and increase leads—we can't wait to help you too! Contact us today to learn more about our digital marketing solutions.
FAQ
Because we've created many web designs for manufacturing companies, we understand the types of questions and concerns that you may have. Take a look at the top three questions that our team is often asked. If you still have questions, don't hesitate to reach out to us to schedule a consultation.
Q: Will Digital Marketing Services Improve My Sales?
A: Yes, they can. It's important to note that most digital marketing agencies do not offer sales consulting, but the right digital marketing strategy can lead to more website traffic and leads, which can then be converted into sales.
Q: What Should I Expect From an Agency After Hiring Them for Web Design Work?
A: This depends on the agency. At Momentum, when we create web designs for manufacturing companies, we always start with a consultation. Our goal is to be collaborative from start to finish so that you always know what you're getting. That also extends beyond our manufacturing web design services. Whether you're coming to us for a new web design, search advertising questions, or an SEO strategy, you can expect to be including the entire process from start to finish.
Q: How Do I Know if My Digital Marketing Efforts Are Successful?
A: Our team uses KPIs (key performance indicators) to measure success. We use several software programs to track KPIs like keyword rankings, number of website visitors, bounce rate, quality leads, and more. You'll always have access to these KPIs, as well as a campaign manager who will explain what they mean and how they connect to your campaign.
Examples of Our Work
Our goal with every manufacturing web design is to create an eye-catching website that improves your rankings, increases your traffic, generates more qualified leads, and converts more leads into customers.
The following is a small example of the websites we've designed and optimized for our customers. We can do the same for you.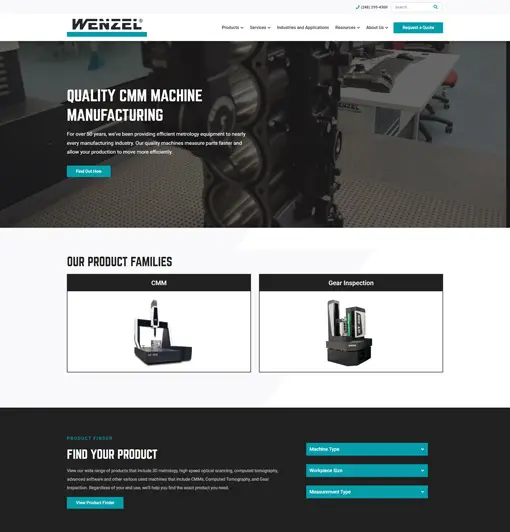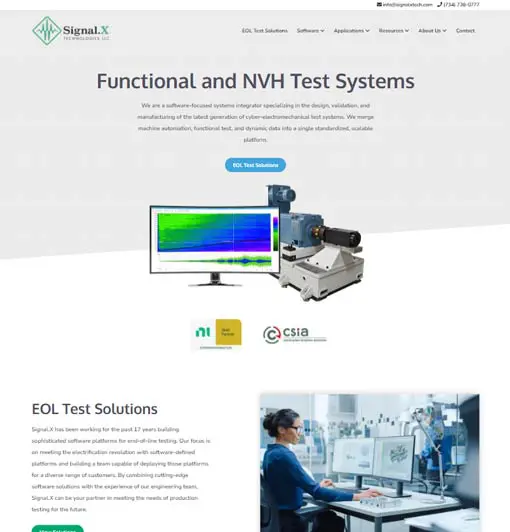 Michigan's Trusted Manufacturing Web Design Agency
Momentum is proud to be considered one of the top manufacturing web design agencies in Michigan. When you work with us, you're working with experienced web developers and digital marketing specialists who care about your success and online growth. Want to learn more about how we can help you? Schedule your consultation today.