How to Sell More Machines and Parts Online
E-commerce has been increasing as a method for manufacturers and suppliers to sell products. If you're a company that is or is planning on selling products online, you need to be aware of the techniques and tools available to increase your online transactions.
Let's start with some recent statistics on B2B e-commerce and why it's important for your website as buyer behaviors have continued toward more online research and purchases in recent years.
B2B e-commerce is growing 19% annually, nearly three times faster than B2C e-commerce.
B2B online sales will reach $1.8 trillion by 2023.
By 2023, B2B customers will purchase 72% of their goods online.
While it's easy to see consumers buying more online, the B2B world has been slower to adopt. There are a few reasons for this.
For one, B2B buying is more complicated than B2C. There are often more decision-makers involved, the products are more expensive, and the sales cycle is longer.
The B2B buyer's journey is also different. Where B2C buyers are typically focused on convenience and price, B2B buyers are focused on finding the right product to solve a specific problem. The right product means finding the right supplier, which means doing research.
B2B E-commerce Site Sales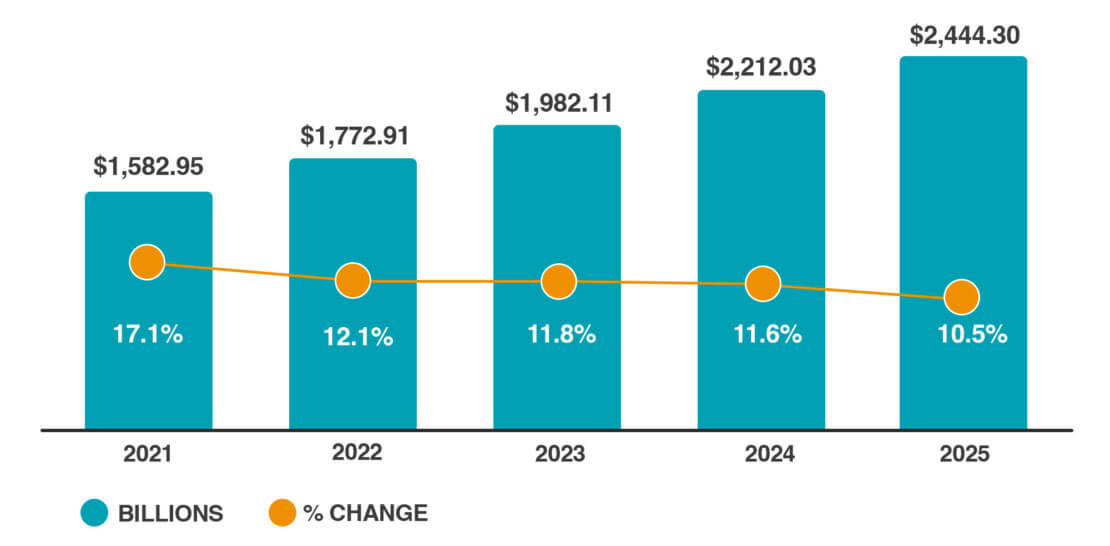 This research often happens online, which is why it's so important for B2B companies to have a strong online presence. The first step in creating a strong online presence is to have a website that is designed to attract and convert B2B buyers.
The following tips will help you get started on the path to successfully selling more machines and parts online:
Use an E-commerce Platform
An e-commerce platform is a software solution that enables businesses to create an online store and sell products and services. The platform provides a complete set of tools and features that businesses need to build and manage their online store, including a shopping cart, payment gateway, inventory management, order fulfilment, and customer service.
Choosing an e-commerce platform is typically a better option than a custom built one because it is easier to manage and update. A custom built one may be more expensive and difficult to update. There are many e-commerce platforms available that can be used to sell products online. Selecting the right platform is important as it will determine how easy it is to set up your store, how much control you have over the look and feel of your store, and what features are available.
Some examples of e-commerce platforms are Shopify, WooCommerce, and Magento.
User Experience
E-commerce has come a long way since the early 2000's and so have user expectations. The catalog structure, page layout, and speed of your online shop are critical to obtain search engine visibility and higher conversion rates. Slow loading pages are detrimental and will lower your conversion rates.
Fast loading pages
How fast should a website load? Ideally, you'll want your website to load within three seconds, or two seconds if it's an e-commerce site. In fact, 40% of consumers will wait no more than three seconds before abandoning a site.
There are a few reasons why fast loading pages on e-commerce websites are important.
The first reason is that fast loading pages provide a better user experience. When a page loads quickly, users are able to view the content on the page sooner and are less likely to become frustrated and leave the site.
The second reason is this can help to improve conversion rates. If users are able to view the content on a page quickly, they are more likely to stay on the site and complete a purchase.
Finally, fast loading pages can help to improve search engine rankings. Search engines take into account the speed of a website when determining where to rank it in search results. Therefore, if a website has fast loading pages, it is more likely to rank higher in search results, which can lead to more traffic and sales.
Product catalog structure
The product catalog structure is important on a website because it helps to organize and present products in a way that is easy for customers to browse and find what they are looking for. A well-organized product catalog can also help to improve the search engine optimization of a website, making it easier for customers to find the site when they are searching for specific products.
It's no secret that managing a product catalog can be challenging, but these tips and tricks can help simplify the process and make your catalog management a breeze:
Create a Catalog Management Strategy
We recommend creating a catalog management strategy to help you better understand your catalog, prioritize changes, and manage your catalog more effectively. The main elements of your strategy should include:
Identify your target market and understand their needs
Categorize your products
Group your products into collections
Select your product data fields and attributes
Organize your product catalog
Determine your product image requirements
Define your product title requirements
Set your product pricing Identify your product variants
Map your product relationships
Update Your Product Catalog Regularly
Enhance Overall Website Navigation
The overall navigation of your website is another important aspect to consider if you want to enhance your customer's journey. It is important to make sure that your website is easy to navigate, straight-forward, and organized. You can use breadcrumbs and proper website categorization to help shoppers navigate your website with ease.
Here is an example of Grainger's website navigation. The top level catalog uses a mega flyout menu, is well structured and in alphabetical order. Making it easy to locate and narrow down product categories. The search is also front and center with the option to search by keyword, item, model or even part #.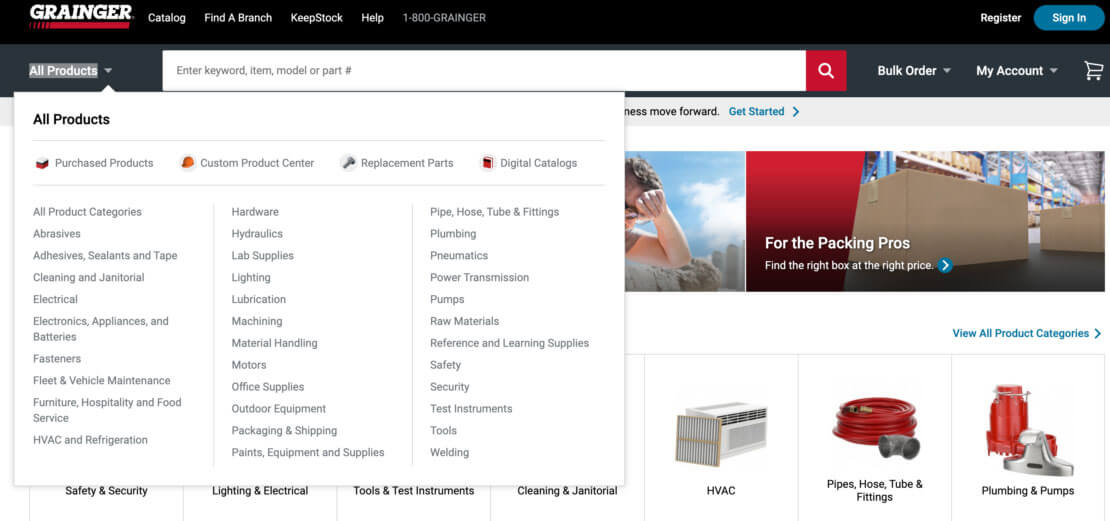 Improve Cart and Checkout Processes
Improving your cart and checkout processes is one of the most effective ways to enhance customer experience. You can do this by optimizing the cart page, making it easy for shoppers to add products, and developing a fast and secure checkout process.
By improving your cart and checkout processes, you will not only improve customer experience but also increase your chances of converting shoppers into customers.
Optimize Product Search and Filters
As mentioned above, the first step is to come up with a good organizational system for your products. This is important for both the front-end user experience and the back-end organization of your inventory. Once you have a good system in place, you can start tagging and categorizing your products.
Tagging your products properly is crucial for searchability. Use descriptive tags that include important keywords for your products. For example, if you sell pumps, you might want to use tags like "aeration," "filtration," "coolant," "sewage," "diaphragm," etc.
Categorizing your products helps users sift through your inventory more quickly. You can use general categories like "pumps," "motors" "valves" etc., or you can get more specific with subcategories. For example, you might have a "motors" category with subcategories like "AC motors" "DC motors" "motor capacitors" etc.
Finally, you can use filters to help users narrow down their product search even further. For example, you might have a "price", "brand" and "specs" filters. Filters can be applied to any type of product.
By using proper tags, categories, and filters, you can make your product search granular and help users find the exact products they're looking for.
Below is an example of Caterpillar's (cat.com) product listing page. The use of filters allows user to narrow down models by equipment type, machine type, max cut depth, and more. This makes it easy for the user to find the exact model(s) they want.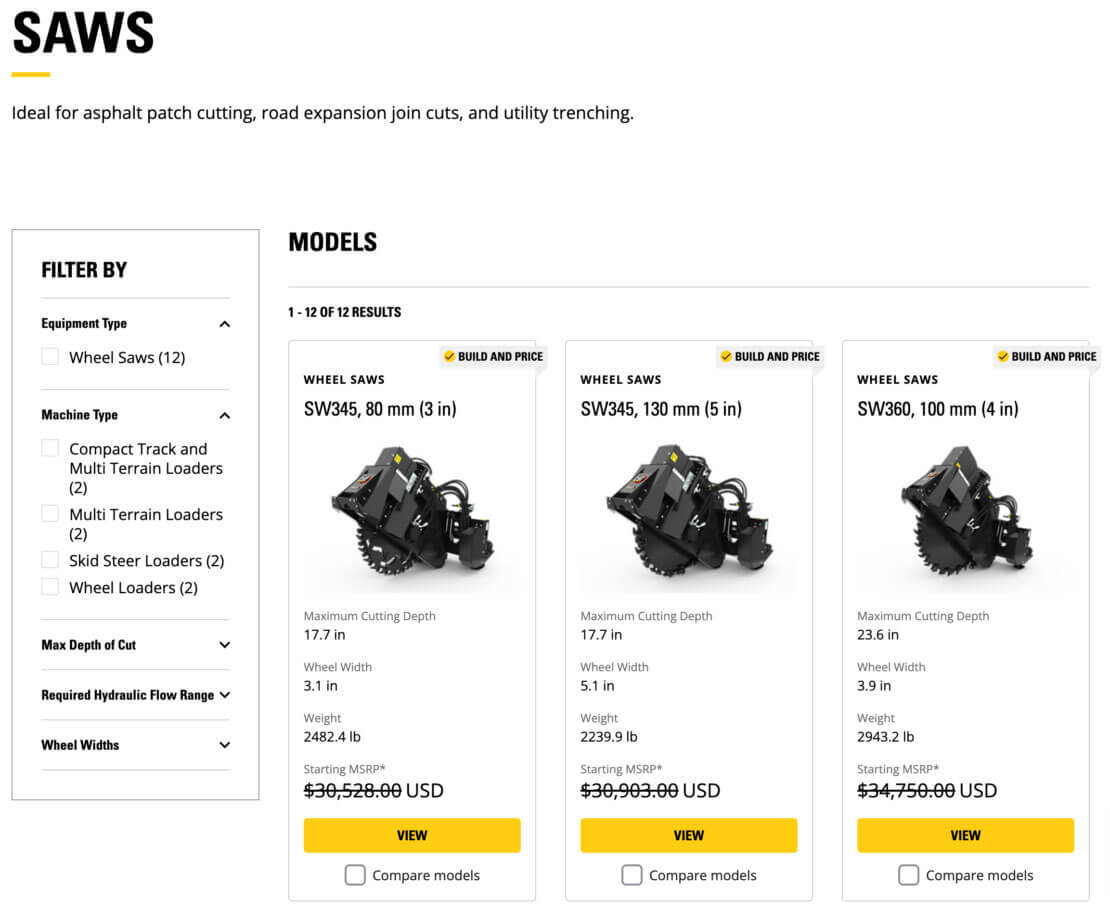 Product Page Optimization
There are several elements to a good e-commerce product page. However, some tips on creating a good e-commerce product page include using high quality images, providing detailed product descriptions, and offering customer reviews. Additionally, it is important to make sure the page is easy to navigate and that the checkout process is smooth and user-friendly.
Use high-quality product photos – Images are often the first thing potential customers will see when they visit your store. Using high-quality images will help give your products a professional look and make them more likely to be purchased.
Write detailed product descriptions – When selling products online it is important to have detailed and accurate product descriptions. This will help potential customers understand what they are buying and make a decision about whether or not to purchase your product.
Use positive customer reviews – Posting customer reviews show potential customers that other people have had positive experiences with the website. This can help to build trust and confidence in potential customers, leading to more sales.
Offer a variety of payment options – Offering a variety of payment options is important for two main reasons. First, it allows customers to choose the payment method that is most convenient for them. Second, it helps to increase sales by making it more likely that customers will find a payment method that they are comfortable with.
Provide customer support – When customers are happy, they are more likely to continue doing business with a company. You can offer customer support options and a live chat bot or agent directly from a product page. This is beneficial if a customer has questions about a product and can get quick answers to those questions.
Offer discounts and promotions – When selling products online it is important to offer competitive pricing, and discounts. A good example of this may be bulk discounts if you sell products that are often purchased in larger quantities. This will help ensure that potential customers select your products over those offered by your competitors.
Here is an example of a well designed product page. The use of high quality images, video, detailed product description, customer reviews and payment options provides the user with all the information they need to make a purchasing decision.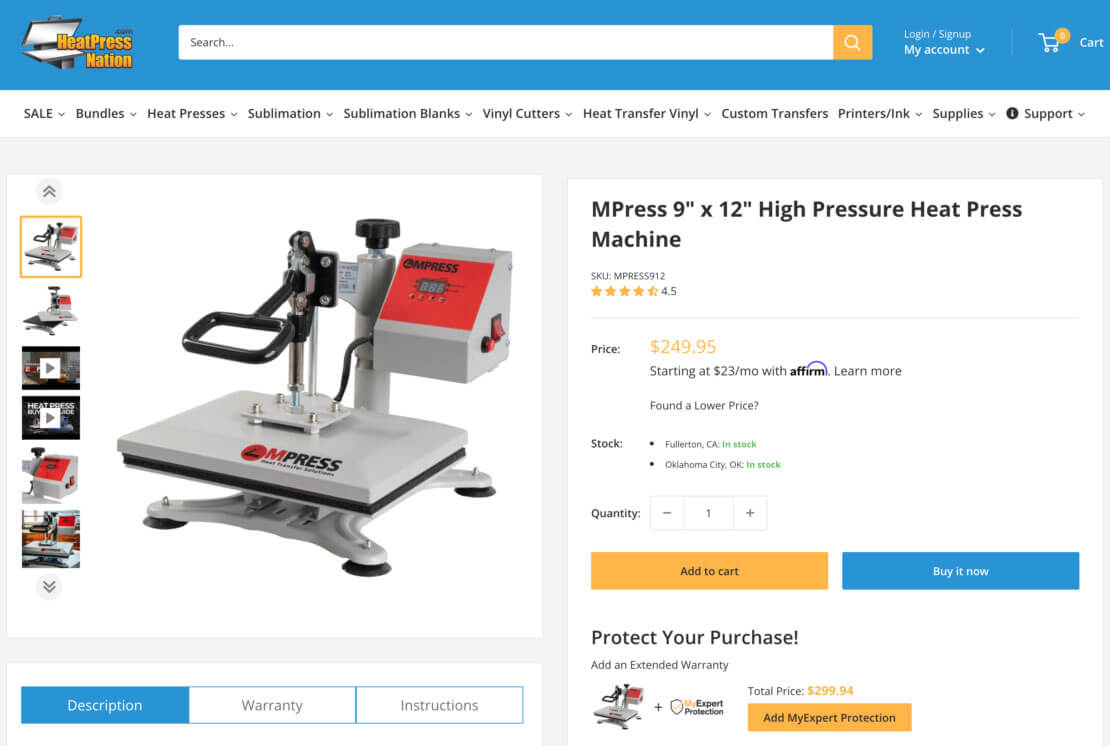 Personalize the B2B E-commerce Experience
Personalization is another method you can use to enhance customer experience. You can do this by using customer data to personalize your website, emails, and other marketing materials. By personalizing your communications, you will create a more personalized and unique experience for your customers, which will improve customer loyalty and repeat business.
There are a few ways that you can personalize the e-commerce experience for your customers. One way is to offer customer profiles. This allows customers to save their information and preferences so that they do not have to re-enter them every time they make a purchase.
Another way to personalize the e-commerce experience is to offer recommendations based on past purchases or browsing history. This helps to ensure that customers see products that they are more likely to be interested in.
Finally, you can also allow customers to leave reviews and ratings for products. This provides valuable feedback for other customers and helps to create a more personal connection with the products.
Here are a few additional ways to use data to personalize the customer experience:
Use customer segmentation to tailor your product offering and website experience
Use customer data to personalize the user experience and create a more targeted marketing approach
Use A/B testing to optimize your website experience for your target audience
Use social media to connect with your target audience and create a more personal connection
Improve Customer Service
Improving your customer service is another method you can use to enhance customer experience. You can do this by providing excellent customer support, responding to customer inquiries quickly, and resolving customer complaints efficiently. By improving your customer service, you will not only improve customer experience but also increase customer loyalty and repeat business.
Live Chatbot Support
A chatbot is a computer program that simulates human conversation. It can be used to answer questions, provide customer support, or promote a product. Chatbots are beneficial because they can save time and provide 24/7 support.
In addition, you can have a company support agent manage the support chat during business hours, or a combination of both the chatbot and live agent.
Question about a product? On safetyglassesusa.com chatbots and live agents are there to assist in real time.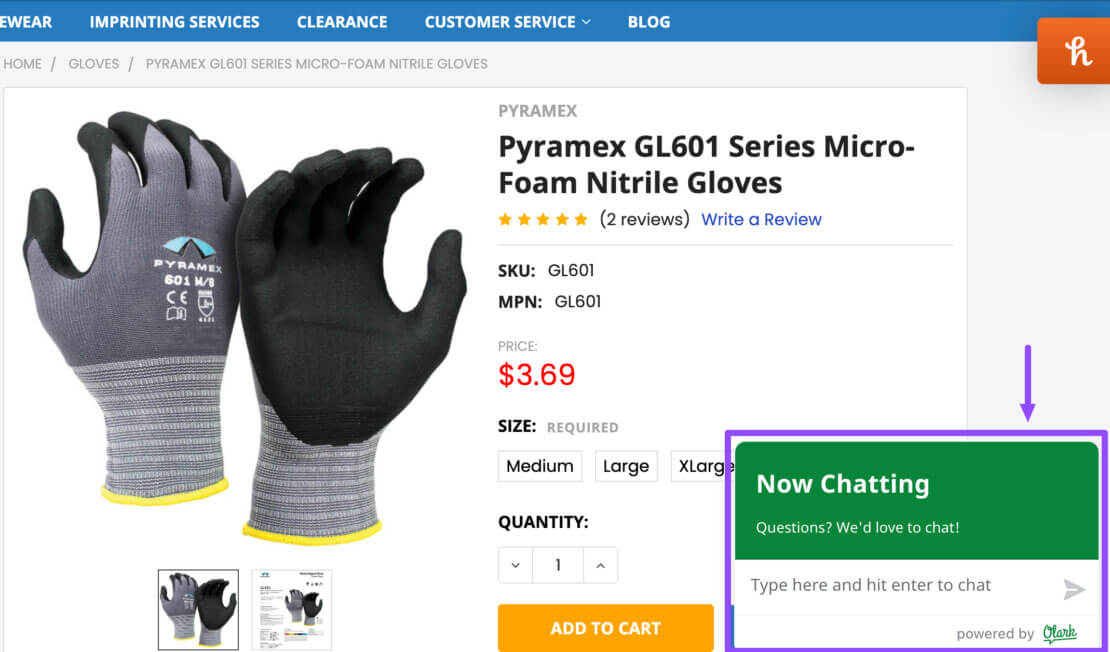 Promote Your Store
Promote Your Store Once you have set up your store and added products it is important to promote your store to potential customers. There are many ways to promote your store including social media, online advertising, SEO and email marketing.
Google Shopping's Product Listings
Google Shopping's Product Listings are ads that appear in Google search results when someone searches for a product that a merchant is selling. The listing includes the product's image, price, and merchant name.
This platform is used for both retail consumer products as well as B2B industrial products. As younger buyers look to Google to find new products Google's shopping platform has become a great way to get your products noticed for free.
Free listings allow merchants to display their items across Google.
What are the Benefits of Listing Your Products On Google?
Some benefits for retailers who list their products on Google are that they can increase their visibility online, reach a wider audience, and generate more leads and sales. Additionally, listing products on Google can help build trust and credibility with potential customers, as well as improve search engine optimization.
Increase online visibility to customers who are already looking for items similar to what you offer
Promote your products by highlighting the unique features of your products
Increase website traffic
Increase sales not only because of the increased traffic but also when customers Buy on Google.
Best of all, you can remain competitive for no additional cost. If you already advertise your products using Shopping Ads, free listings complement the campaigns you are already running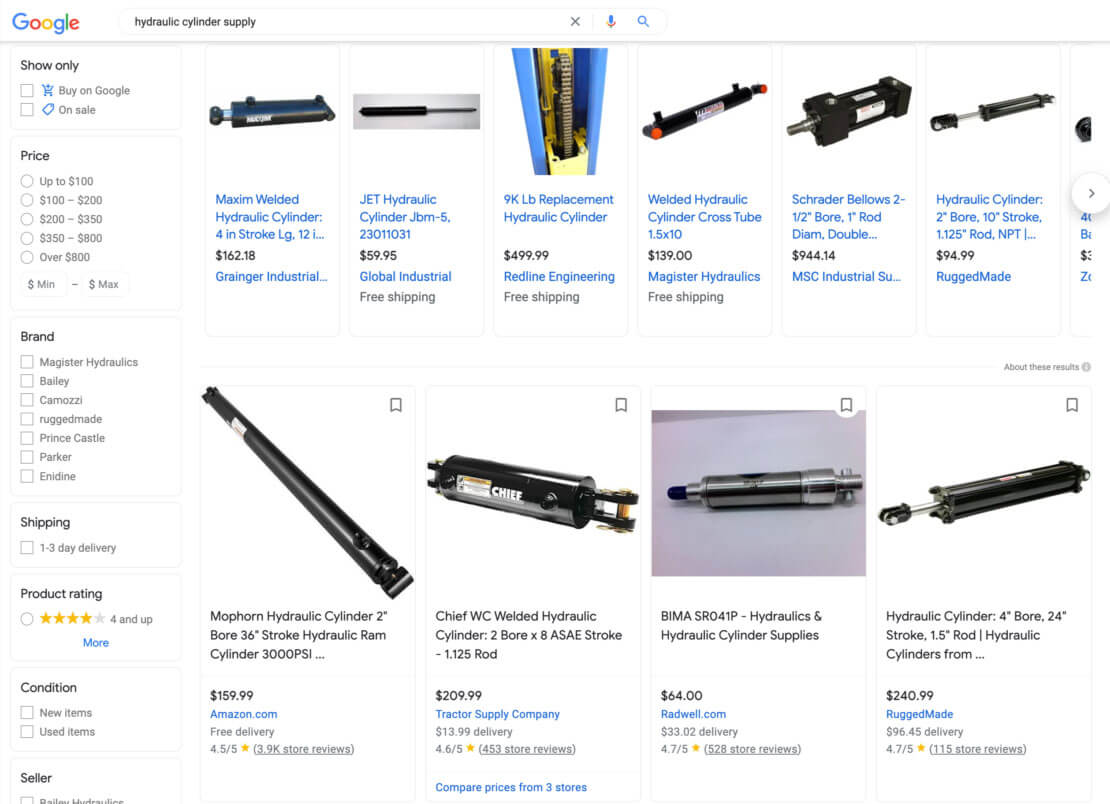 E-Commerce SEO
E-commerce SEO is a complex and ever-changing field, but there are some basics that all e-commerce website owners should be aware of. Search engine optimization is vital for any website that wants to rank high in the search engines and attract organic traffic, but it is especially important for e-commerce websites. After all, if your website doesn't show up in the search results, potential customers will never even know that you exist.
The first step in optimizing your e-commerce website for the search engines is to make sure that your website is properly indexed. This means that the search engines can find and crawl your website easily. You can check to see if your website is indexed by using the Google Search Console. If your website is not indexed, you will need to submit it to the search engines manually.
Once your website is indexed, the next step is to optimize your website for the keywords that potential customers are using to search for products like yours. You can find out which keywords people are using by using the Google Keyword Planner. Once you know which keywords to target, you can start optimizing your website for those keywords. This includes adding those keywords to your website's title, description, and keywords tags.
In addition to optimizing your website for the search engines, you also need to make sure that your website is easy to navigate and user-friendly. Potential customers should be able to find what they are looking for easily on your website. If your website is difficult to navigate, people will likely click away from it and look for another website that is easier to use.
Finally, you need to make sure that your website is accessible from all devices. These days, more and more people are using their mobile phones to access the internet. If your website is not mobile-friendly, potential customers will likely click away from it and look for another website that is.
By following these basic steps, you can ensure that your e-commerce website is optimized for the search engines and that potential customers can find it easily. If you would like to learn more about the benefits of SEO read our recent post on such benefits and statistics.
Third party Marketplaces
A third party marketplace is an online platform that enables merchants to list and sell products. These platforms are typically operated by third-party companies, such as Amazon B2B, eBay, and DHgate.
Some benefits of third-party marketplaces are that they can help to increase sales and visibility for businesses, can provide a larger selection of products and can offer more competitive prices.
They can also provide valuable data and insights about customers and their buying habits. In addition, third-party marketplaces can help to build trust and credibility with customers. Additionally, they can offer convenience and easier shopping for consumers.