Local SEO vs Regular SEO: Which is better for your business?
SEO is a complex process. Consumers are relying more on the internet to help them with purchasing decisions every day. It is important for small businesses to use SEO to reach the right users in the right markets. SEO campaigns should be tailored to each individual business. Also, a local business needs a different type of campaign than a business with a wider audience. Local SEO and Regular SEO campaigns are two separate processes, which we will describe below.
What is Local SEO?
Local SEO is search engine optimization targeted towards local users. Effective Local SEO increases search engine visibility in a local business area. In addition, mobile phone usage has increased, contributing to the growing importance of Local SEO. Search engines use the location of the user to determine what results should show to them. Search engines take into account local keyword intent, also. For example, "coney island" in Detroit, MI would refer to a type of diner, but in the NYC metro, it would refer to a place. Another factor is the consistency of contact information for a business. An example is if the business has one address listed in a directory and a different one in another. The search engine may not be able to tell if the result is near the user. A good Local SEO campaign shows users relevant content when they are close to buying a product. A good Local SEO campaign shows users content when they are close to the contacting the business, also.
Local SEO is about more than location. Customer reviews can be influential or detrimental to small business success. A recent study by BrightLocal studied online reviews and user behavior. They determined that over 70% of users read online reviews before buying from a website. Online reviews count as a vote of confidence in the website. Another factor is domain authority. A website should, above all, aim to be an authoritative/ trustworthy business. The reason why is despite rankings, users are more likely to use the services of a business that they trust.
What is Regular SEO?
Regular SEO increases search engine visibility for users on a national level. The keywords do not have to associate with a local business. An example of a Regular SEO keyword is "discount jeans" instead of "thrift stores." "Discount jeans" has a national focus because users can find this product online. "Thrift stores" is a local keyword. The user's intent is to find a local thrift store. But, location can affect Regular SEO results still. For example, if someone looks up a company that has multiple locations, the location closest to the user is at the top of the results. Most national businesses have local results that appear under their national listing. Due to this, their top results will be more local. But, Regular SEO results are mostly not dependent on location.
The factor that matters more with Regular SEO is the amount of trust that users have in the results. One SEO metric for measuring trust is domain authority. The number of links to a website determines how much trust the website has. The New York Times ranks higher for a news topic keyword compared to an individual blog on the same subject. If the user has location services off, a search could pull up several search engine results. In this scenario, having more authority and trust would be beneficial. Regular SEO results do not depend on NAP profiles or customer reviews as much. Users are not likely to look up Target's reviews because that is a well-known brand that many people trust. For small businesses, there can be challenges with ranking on a national scale. This article will discuss that in depth later.
Local SEO vs Regular SEO – Venice update
In 2012, Google released the "Venice" update. There was a stronger distinction between local and regular SEO results before. Before the update, search results were not localized. If the user did not specify their location, the results were broad. The update had the purpose of localizing results of broad search queries. Many national queries have local results in the top spots of the search engine results page now. Yet, this did not happen to all search queries. For example, some retail based queries are not localized, such as "jeans." The results page for this keyword has a variety of online stores which may or may not be local.
A starting point when doing keyword research is to see if local results are appearing for that keyword. See what type of local results are appearing also. Extensive research helps you discover unique strategies that will increase your website's search visibility. A listing on referral or directory sites may create more traffic than a keyword. Some keywords have both general and localized results. In this case, local optimization is a better initial strategy. Once a strong local position is achieved, the business may be able to expand to national search results.
Why does there need to be a distinction?
Despite the "Venice" update, Local SEO and Regular SEO is not the same. Optimizing for the wrong market reduces the effectiveness of SEO. Some businesses serve a local market or have services that are local in nature. Examples of businesses with local intent include chiropractors, lawyers, and handyman services. Competing against national companies is more difficult than optimizing for a local audience. For general keywords, businesses with the highest domain authority usually rank first. New businesses have not earned high-quality links yet or domain authority. This can make it hard for them to rank for national keywords at first. Additionally, most queries have a local focus now. This makes local SEO optimization an important aspect of an SEO strategy in general.

The types of results that Local SEO aims to affect in comparison to Regular SEO is different. Local SEO has a goal of obtaining a business listing in the local 3-pack. The local 3-pack is a section at the top of the Google search engine results page. The local 3-pack are summaries of local business listings. These local business summaries lead to Google My Business listings. On each listing, there is the name, address, and phone number of the business. These results show first for users because they are convenient. Users on mobile devices may click these results before browsing the rest of the results.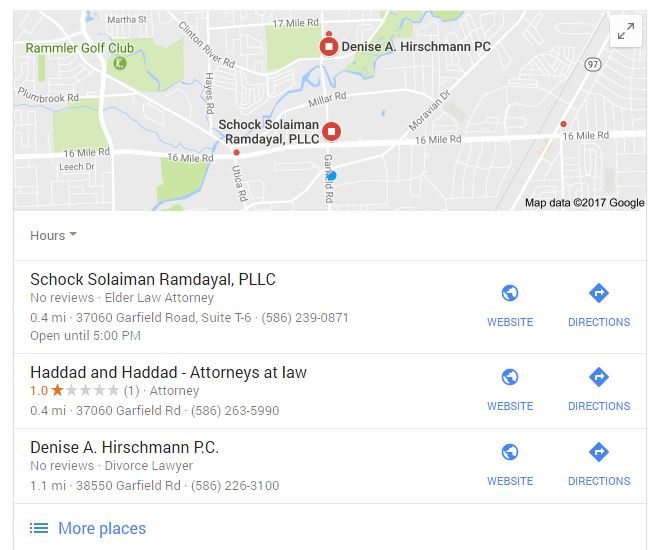 Due to this, it is important to aim at ranking in these results for local search engine optimization. In comparison, Regular SEO has the intent of ranking as high as possible. The keywords need to be relevant keywords that will convert to sales. The number of links pointing to a website determines the rankings for national queries. The links pointing to a website are "votes of confidence" for that website.
Steps to Local SEO
1. Complete keyword research:
First, begin with basic keyword research. To get more targeted traffic, you have to understand what words customers are using to find you. Some keyword tools that can help you are Moz, and Google Adwords. Consult more than one source to get the most accurate understanding of your audience. Make sure you research the competition level of your list of keywords. It is not useful if you rank for a keyword that you cannot land on the first few pages for.
Some creative ideas for finding keywords are asking friends or family. Ask them how they search for businesses like yours. The research results may surprise you. Users may search for different keywords than what you assumed. Marketing in the digital space can be competitive. What will help you find success is following what your competition is doing. Some tools for studying your competition's keywords are SEMrush and SpyFu. It is a good idea to understand what keywords your competitors are ranking for. Competitor research can reveal opportunities that you can capitalize on.
2. Optimize page titles and descriptions:
When you have selected your keywords, it is time to optimize your website. Place your keyword at the beginning of the page titles that you want to target. It is good practice to start with your homepage first and work down the page order from there. Good SEO practices state that most titles be around 50-60 characters. Place your metro area in your title tag second, and your brand name last. There are many variations of a title tag, and that is one of them. The title tag structure that is most effective for your website depends on the type of business. A business with a strong brand name would want to place that first in the title.
Don't forget meta descriptions. A meta description is a text block below the title tag in the search engine results. Meta descriptions are a paragraph describing the content of the web page. Meta descriptions are not a search engine ranking factor. But, a well-written one can encourage users to click on your page. Meta descriptions should be around 150-160 characters. If they are too long, then they can become cut off by the search engine.
3. Confirm that your address and phone number are visible on your website:
Search engines scan the body content of web pages. Your address and contact information should be visible on your website. A good spot is the homepage of your site or the contact page. This will help users too: they may not be able to tell that your business is local if you do not make it easy for them.
4. Sign up with NAP services (Google My Business, Bing Places):
NAP profiles are important for Local SEO. NAP is an abbreviation for "name address phone number." Some examples of NAP profiles are Yahoo, Google My Business, Yellow Pages, and Yelp. Users use these directory sites to look up a service, which helps users find you. Google analyzes NAP profiles to determine your business location too. This is helpful for Local SEO. Google My Business is the most important NAP listing. Google uses GMB information to determine what to display in top local search results. Read our article on "How To Get Your Business Listed on Google Maps." That article has instructions for creating a Google My Business profile.
5. Mobile optimization:
The number of users using mobile devices is increasing. Due to this, the need for high-quality mobile website design is increasing too. Page speed can be a factor in whether users continue browsing a website or not. Mobile users are on the go and want to access information on their devices immediately. If the page takes too long to load they might abandon the page. For mobile optimization, titles and meta descriptions should be shorter. On some devices, there is less screen space to work with.
The mobile design should be professional and easy to use. Responsive design is a popular site design that Google recommends. Responsive design makes web pages show the same layout regardless of what device they are opened on. Google has announced a focus on "interstitial ads" for 2017. Interstitial ads are advertisements that pop up on a mobile website screen. These ads obstruct the user from the main content. Some ads are hard to exit. Avoid placing ads on your website in a way that disrupts the user experience. Read more about interstitial ads.
Steps to Regular SEO
1. Keyword research:
Regular SEO keywords tend to be more general. They might have an informational intent behind them. For Regular SEO, it is a good idea to find keywords that are specific as possible. For example, "types of concrete" is more specific than "concrete." In comparison, users who are typing "concrete" may be looking for a variety of results or photos. "Types of concrete" is more narrow and as such your website is more likely to end up ranking for it. It is important to note that keyword competition matters too. Keep reading to find out more about overcoming competition. Regular SEO is not as affected by local citations.
2. Increasing domain authority, links:
One of the main factors in national rankings is domain authority. The number of links pointing to your site determines domain authority. Sites with more links tend to rank higher than sites with less. Sites with high domain authority tend to rank higher. Domain authority suggests that a site is trustworthy and authoritative. There are many ways to get links, depending on your business category. Some creativity is necessary to create unique links. Look for websites that are well known in your business category for ideas. Let's look at some examples.

A website that sells construction equipment:

They can get listed in a construction B2B directory. or a trade magazine directory.

A website that does construction:

They can get listed in a construction B2B directory, construction organization directory.
3. Getting an edge over national competitors:
There are a few ways that you can get an edge over national competitors. One way is by acquiring links that they are not likely to get or have time to get. One example is guest posting or blogs. Some big companies might not have the time to start a blog. If they already have significant market share in the industry, publishing a blog may not be worth it. A blog can help you rank for more general keywords that have an informational intent. A guest post on a high authority website can result in an increase in domain authority, also. When searching for websites that accept guest posts, verify that they are sites with high domain authority.
What type of company would benefit from Local SEO?
Plumbers, carpenters, salons, and painters are businesses that can use Local SEO. These are all local services that people search for. Since these businesses rarely receive national traffic, their results are local. A user in LA would search for services in LA, for example. Local competition is high for these types of services. Local SEO is more relevant to their success. New small businesses can stand apart from the competition by having a local SEO campaign. When comparing yourself to competitors, there is something to remember. Some businesses might have competitors that do not have websites. In comparison, some competitors might have a website but not a brick and mortar location.
What type of company would benefit from Regular SEO?
Companies who can offer services outside of their area can use Regular SEO. Online retail stores are an example. Companies in a niche industry such as manufacturing fit that description. In addition, Regular SEO can help companies with a strong local presence expand. Niche companies are more likely to market to a national demographic instead of local. The reason why is their product can get purchased from someone in another state. Companies who have more than one location can use Regular SEO too.
Conclusion:
In conclusion, focusing on Local SEO first is going to be the best strategy for most businesses. Regular SEO involves ranking on a national scale. This can prove challenging for businesses with local customers or new businesses. Some steps for Local SEO include keyword research, optimizing page titles, and descriptions. There is also confirming that your address and phone number are visible on your website. You can get backlinks by signing up for NAP services. Optimizing Regular SEO is different. The steps include keyword research, increasing domain authority, and links.
It is important to remember mobile optimization. User-friendly mobile design can help increase your rankings. Ranking on a national scale using Regular SEO is more difficult. But, small businesses can compete against larger companies. One way is to devote your time to overlooked SEO strategies. Bigger business might ignore or overlook certain strategies. Companies that offer local services can use Local SEO. Some examples are plumbers, and HVAC contractors. Local companies who have been in business for awhile should consider using Regular SEO since it can help them expand to a national audience.