Search Advertising: Which Type of Google Ads Campaign Is Best for My Business?

There are tons of online advertising platforms out there, including Facebook, Instagram, Twitter, Bing, LinkedIn, YouTube, and Google. For most businesses, Google Ads will be the best starting point. With millions of searches made every day, Google provides a platform where businesses can target their ideal audience. 
Google Ads also provides a convenient pay-per-click model—if someone clicks on your ad, you pay Google a small fee, which is determined by the quality/relevancy of your advertisement. If someone doesn't click on your ad, you pay nothing. If your campaign is set up effectively, the online visibility and potential leads will outweigh the costs of running the campaign.
Once you create a Google Ads account, your next step is choosing which type of campaign to run. There are five primary campaign types you can choose from.
In the next few sections, we'll break down each campaign type, including what it's best used for and its advantages and disadvantages.
1. Search Campaigns
When someone types a keyword or keyword phrase (sometimes called "query") into Google, the results they see (often at the very top) are usually ads. These are known as search campaigns.
When to Use
If you want to appear for specific search queries.
If you have clear calls to action like "Buy Now," "Sign Up," or "Contact Us."
If you're a local business wanting to target customers in your service area(s).
Pros
Targets users actively searching for a product, service, or information.
High intent means users are ready to buy and more likely to convert.
Con
Can be competitive and costly for popular keywords.
2. Performance Max Campaigns
These are visual ads that appear on a variety of websites and apps that are part of the Google Display, Search, Video, Maps, Gmail, and Discovery Network.
When to Use
If you want to build better brand awareness and online visibility.
If you want to retarget users who have previously visited your website.
If you want to promote visual products or services.
Pros
Massive reach—over 90% of internet users can be reached via these Google Networks.
Variety of targeting options like keywords, demographics, and interests.
Cons
Users are not actively searching/aren't necessarily ready to buy, so they might be less likely to click or convert.
Display ads can sometimes be ignored as "background noise." 
3. Shopping Campaigns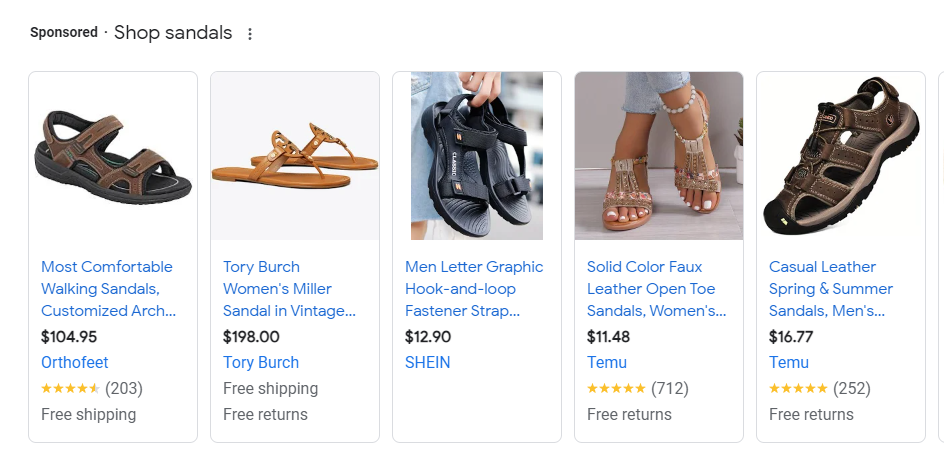 This ad campaign directly showcases products (with an image, title, price, and store information) in the search results. If you've ever clicked on the 'Shopping' tab in Google, there will be a 'Sponsored' section at the top—these are shopping campaigns.
When to Use
If you have an E-commerce website.
If you have a variety of products to promote.
Pros
Highly visual, which can entice clicks.
Direct integration with E-commerce platforms (Shopify, etc.) for easy setup.
Cons
Only available for E-commerce businesses.
Can be competitive for popular products.
4. Video Campaigns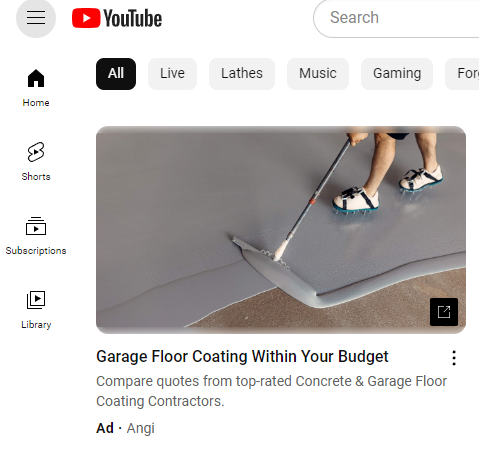 This type of ad typically appears on YouTube and other Google video partners.
When to Use
If you want to build brand awareness.
If you want to promote products or services with a story or demonstration.
If you want to engage with a younger audience.
Pros
Video content is easily shared and more likely to be engaged with versus long text ads.
Multiple ad formats and placements available (e.g., in-stream, video discovery).
Cons
Requires video content, which might be costly or time-consuming to produce.
Not every target audience is on YouTube.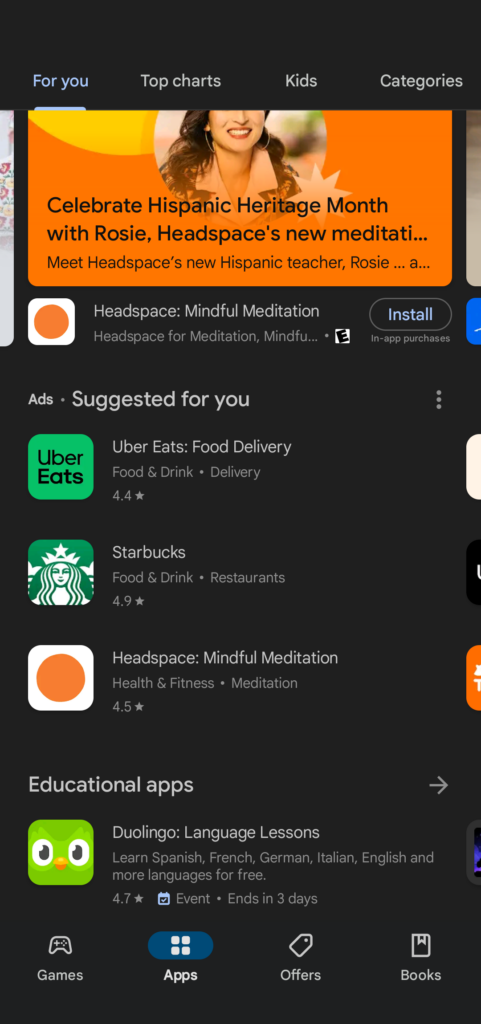 5. App Campaigns
App campaigns are used to display new apps across Google Search, Play Store, Display, and YouTube.
When to Use
If you have a new app to promote.
If you want to increase app installs or engagement.
Pros
Automated targeting means Google finds the best audience for your app.
Includes a direct link that users can click on to easily download the app.
Con
Solely for app promotion.
Choosing the Right One
Choosing the right Google Ads campaign type boils down to understanding your business goals. If you're seeking immediate conversions from high-intent users, Search campaigns might be your best bet.
On the other hand, if broad brand awareness is your goal, consider the Performance Max or Video campaigns.
E-commerce businesses can benefit significantly from Shopping campaigns, while companies promoting a new app should naturally gravitate towards App campaigns.
It's also worth noting that the lines between these campaign types aren't rigid. Combining multiple campaign types, like Search and Performance Max for retargeting, can lead to a comprehensive and efficient advertising strategy. Monitoring your campaigns and adjusting based on performance metrics will ensure you get the best return on investment.
Start Your Campaign the Right Way
Do you still have questions about Google Ads? Get the help you need from Momentum. Founded in 2010, we're an online marketing agency committed to helping small- to mid-sized businesses increase online visibility, improve lead generation, and enhance brand awareness/reach.
If you need help creating your first Google Ads campaign, please contact us today to schedule a consultation with our pay-per-click (PPC) specialist.